Lansco Manufacturing has offered custom, high-quality sheet metal fabrication since 1986. From complex, close tolerance machined fabrications to simple brackets, we provide top-notch quality, added value, and impeccable customer service to clients ranging from small businesses to Fortune 500 companies. From light gauge sheet metal to heavy plate and structural weldments, our full-service sheet metal fabrication services include laser cutting, water jet cutting, welding, powder coating and more. We do food and pharmaceutical grade stainless steel welding and finishing and we excel at quick turnaround, close tolerances and critical finishes. We have the space, finances and software necessary to manage KanBan stocking programs and provide high quality products on-time at the lowest possible cost.
Prev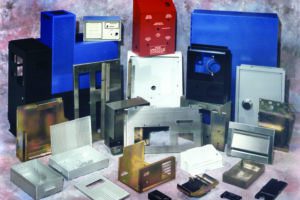 Next
Custom Sheet Metal Fabrication
Custom sheet metal fabrication refers to the process of modifying stock sheet metal to fabricate parts. We do this using a variety of sheet metal fabrication capabilities, including:
CNC laser cutting services

CNC punching

CNC water jet cutting

CNC forming

Custom CNC milling & turning

Forming

Painting & powder coating

Electromechanical assembly
At Lansco Manufacturing, we adhere to close tolerances, and provide quick turnarounds and on-time deliveries. Our materials and advanced equipment are top-grade. Our custom metal fabrication facilities accommodate projects of virtually all sizes and support customers using Lean inventory management strategies to optimize their supply chains.
Benefits of Custom Metal Fabrication
Unique requirements necessitate custom parts that fit and perform exactly as intended. Custom-fabricated and machined parts bring many benefits, including:
Receiving exactly the parts you need, when you need them, at a competitive price

Precisely cut, formed, welded, and machined on specialized, advanced machinery

Inspection with instrumentation calibrated on a regular basis in order to provide consistent quality

Fine craftsmanship, guided by highly qualified engineers, managers and operators

Custom metal parts made from materials that comply with your every requirement

Custom finishes to your exact specifications
Sheet Metal Fabrication Processes
We provide a wide range of metal fabrication processes to create precisely the machined parts that our customers require:
CNC laser cutting services

. This high-precision process uses programmable lasers to cut metals between ¼" to 1" thick. This process creates parts from a broad range of materials quickly, with minimal waste.

CNC punching

. Precision-guided punching and stamping machines create holes, shapes, grooves, ribs, louvers and embossing in rolled or sheet metal materials.

CNC waterjet cutting

. Designed to precisely cut thicker plate and non-metallic materials, waterjet cutting slices through metal using a thin water jet at 90,000 PSI.

CNC forming

. Flat sheet metal is formed precisely using precision press brakes with multi axis CNC gaging and ram control.

MIG welding

. Metal Inert Gas (MIG) welding is an arc welding method that creates an electric arc between two metal workpieces and a consumable wire electrode. The arc heats the two workpieces to their melting point and the wire filler is added fusing the two components together.

TIG welding

. Tungsten Inert Gas (TIG) welding is another style of arc welding that relies on a non-consumable tungsten electrode to create the weld and an inert gas to shield the weld from environmental contaminants. Performed by highly skilled welders, this process creates a clean, precise weld bead often required in the food and pharmaceutical industries.

Resistance (spot) welding

. Creating a metal bond by applying an electric current and pressure to melt and join two workpieces.

Robotic welding

. Certified engineers program our robotic welding machines to create custom bonds with high speed and repeatability.
Sheet Metal Fabrication Applications
Sheet metal fabrication has broad applications across most industries. At Lansco Manufacturing, we regularly produce items such as:
Chassis

Enclosures

Brackets

Pans

Racks

Panels

Frames

Guards
This is by no means a comprehensive list, simply an example of some of the typical projects we see. The versatility of sheet metal fabrication enables us to create a vast array of parts, components, and final products.
Materials
Lansco Manufacturing Services works with a variety of materials compatible with the sheet metal fabrication process, such as:
Aluminum

Brass

Bronze

Carbon steel

Copper

Stainless steel

High Temperature Alloys
Our engineers and technicians have the capability to work with thin-gauge materials or thicker plates, depending on the needs of your design.
Value-Added Services
Lansco provides additional turnkey solutions and value-added services to our customers, such as:
Powder coating

Liquid painting

Stainless steel finishes

Deburring

Polishing
Custom Sheet Metal Fabrication Services at Lansco Manufacturing
Lansco Manufacturing Services has provided superior custom sheet metal fabrication services to our clients for over 35 years. Merging extensive expertise in industrial sheet metal fabrication with the latest technologies and equipment, we help our customers get the exact parts that they are looking for. To see how we can support your sheet metal fabrication project, please contact us or request a quote for your project today.